CKR decided to close the 2019 racing program with of the most important national and international karting race, the Padovan company decided to participate in two categories: class KZ and the IAME X30.
Michele Fontana and William Lanzeni represented us in KZ2.
In the first part of the competition during the free practices on dry track conditions, drivers have always been in the first positions setting the best time (45.83") in one of the sessions.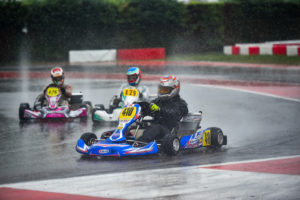 On Saturday and Sunday, heavy rains conditioned the final part of the competition. Despite the vicissitudes created by the weather, the two team's drivers managed to maintain a very good speed.
A quick Fontana abandoned the Final due to aquaplaning, what a pity! looking at his competitiveness shown in the rain.
Good for Lanzeni who, obtaining 2nd position of his group and 4th position total in QP, after a few mistakes in the Final, brings home an 8th absolute place to consign him a top ten of the KZ class.
In X30 was very good race week for our driver Daniele De Martis. After an appropriate adaptation to the new material, the Sardinian driver has made a good climb-up. Too bad that due to a technical problem he was stopped at the most intense moment in the Final.
Thanks to the whole team; Michele Zampieri, Giorgio Stivanello, drivers and their mechanics.