Superstars of the United Arab Emirates (UAE) racing scene challenged some of the best kart racers in the world and came out on top in the 2020 Dubai O-Plate this weekend (17-18 January) at Dubai Kartdrome.
2020 IAME X30 Shifter Dubai O-Plate Champion
The Al Qubaisi family has been making a lot of news in motorsport in the last week, with Hamda Al Qubaisi claiming pole position in the opening round of the F4UAE Championship, Khaled Al Qubaisi's Black Falcon Team winning the 2020 Hankook 24H Dubai and now Amna Al Qubaisi winning her first Dubai O-Plate by demolishing the IAME X30 Shifter field in the Grand Final.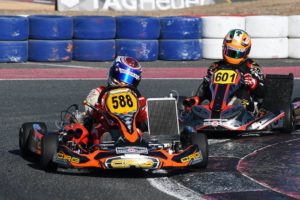 Amna, on CRG chassis, qualified in fourth position and managed to take one of the next three Shifter heats. Everything came together for the Emirati driver in the Grand Final, which quickly became a war of attrition. Three karts didn't make it out of the skirmish, but Amna brook free of the chaos and sailed home for victory, crossing the finish line a full 13.632 seconds ahead of her nearest competitor, Alessandro Stura.
2020 IAME X30 Cadet Dubai O-Plate Champion
Young Rashid Al Daheri has recently been touring the great circuits of Europe and Asia, leaving a victorious trail of conquered tracks in his wake. He returned to Dubai to challenge the IAME X30 Cadet category with Parolin and was quickly in control of the event, topping the qualifying session and winning three out of the next four races.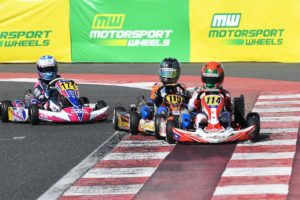 The Grand Final would prove a greater challenge and, although Al Daheri made a quick start, Harry Hannam and Federico Al Rifai both overtook the Emirati driver and controlled the race. Rashid kept his cool and worked his way back into contention, first with Al Rifai and then finally with Hannam, sneaking in just 0.248 seconds ahead for a hard-fought victory.
At only eleven years old, Rashid Al Daheri also has the great distinction of having claimed five prestigious O-Plates, a Dubai O-Plate record.
2020 SWS Masters Dubai O-Plate Champion
Multiple Sodi World Series (SWS) champion Atef Al Barwani already has a full trophy cabinet, but the "Master of Masters" returned to the O-Plate to show the youngsters how to properly defend a title and pick up more championship silverware.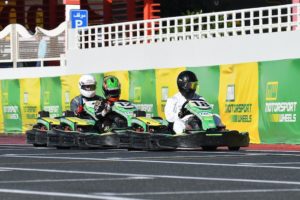 It was mostly heartbreak for 2019 class of O-Plate champions, as none of them, with the exception of Al Barwani, managed to defend their coveted plates. On paper, Atef made it look easy, cruising through the 35 and older category of SWS Seniors by topping Masters qualifying and then taking two class wins in a row over arch rival Gianluca Elmosi.
A wealth of prizes awaited the podium winners, courtesy of IAME, TAG Heuer, Park Inn by Radisson in MotorCity, Brand, XCEL, GGM, Motorscape, GPX Extreme and Dubai Autodrome.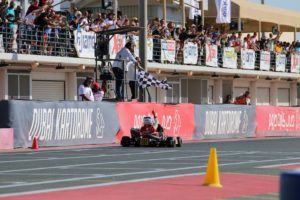 All 2020 Dubai O-Plate Champions
IAME Bambino Cup: Cohen Naylor (GGM)
IAME X30 Cadet: Rashid Al Daheri (Parolin)
IAME X30 Cadet Rookie: Oliver Naylor (GGM)
IAME X30 Junior: Suleiman Zanfari (Birel)
IAME X30 Senior: Danny Kierle (Birel)
IAME X30 Senior Masters: Maxime Voorbraak (Falcon)
IAME X30 Shifters: Amna Al Qubaisi (CRG)
IAME X30 Shifters Veterans: John Vanderhaart (Brand)
SWS Junior: Federico Al Rifai
SWS Senior: Marc Roca
SWS Masters: Atef Al Barwani