The WSK Euro Series is getting off on the right foot for the Kosmic Kart Racing Department, who proves to be reliable in both direct drive categories OK and OKJ.
Another good weekend for the Kosmic Kart Racing Department on the Circuito Internazionale Napoli. The first round of the WSK Euro Series is actually proving the good quality of the work carried out so far and how competitive the Kosmic Mercury R – Vortex duo is, tested on a binding track, on very hot weather conditions, faced up for the first time this season.
In the OK category, our Luigi Coluccio is for sure one of the most competitive drivers of the whole weekend. The Italian centres an important result with the seventh position obtained in the Final, where he reaches the third position too. He also manages to gain a position in top-ten in the decisive race after a brilliant fourth place obtained in Prefinal and good Qualifying Heats, always ending in the first ten and being the author of very good performances.
Also in the OKJ class, our drivers are brilliantly standing out. Especially Alexander Gubenko, our standard-bearer in the category conquering the seventh position with great determination and overtaking 4 opponents. Alexander is making the difference in the Heats, where he constantly gains ground and closes the Prefinal in sixth place.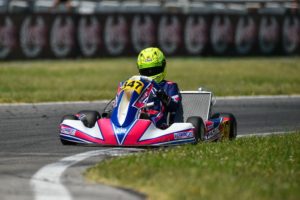 We are also satisfied with the performance carried out by Ean Eyckmans, although his path is more complicated than the one of his teammate. The good results are actually affected by a penalty in the latest Heat, forcing the Belgian to start from the backlines in Prefinal.
After the first round of the Euro Series, the Kosmic Kart Racing Department is back to work to get ready for the appointment scheduled for this weekend, when the first round of the Champions Of The Future will take place on the Circuito Internacional de Zuera in Spain. On this occasion too, we will line up our drivers in the OK and OKJ categories.