Saturday's official timed practice saw Haverkort post best lap of the highly competitive class of 48 entries, where half the field were all within 0.5 seconds, giving the CRG pilot P1 for the two heat races. The only rival who denied him success on both occasions was the 2018 FIA Karting World champion, Lorenzo Travisanutto. The Italian showed exactly why he is the number one, but was well aware of Haverkort's speed. Sunday, however, the track conditions were totally unpredictable, as patches of light drizzle provided the worst scenario for the competitors.
Starting from the outside on the front row in Final 1, the teenager fell back to P4 briefly, then recovering to trail last year's DKM champ Harry Thompson, until he was able to overtake the English Red Bull Junior Team driver on lap 8. By lap 10, Haverkort set the fastest time and was closing on the local hero out in front as the track continued to dry. He crossed the line in second.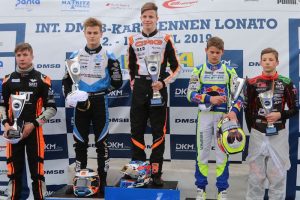 Final 2 began in another close battle between the Dutchman and Thompson for third, although the #4 CRG kart appeared to be lacking speed during the early stages. Fortunately, he soon found his pace and passed the RFM driver along with front-runner Hugo Sasse, before pursuing DKM newcomer Travisanutto. Clocking quickest lap once again, Haverkort made the move for P1 with just four laps to go, stretching the gap to more than one second by the chequered flag.
The 2017 Junior DKM Champion took fourth place overall in last year's senior class, but is aiming to make this season another winner in the title fight. The race victory was enough to boost Haverkort to the top of the series' ladder with a two-point lead in the championship going into round 2 of five in a month's time at the ProKart Raceland circuit, Wackersdorf. With his dominant performance at the German ADAC Masters at the same circuit a week ago, he's feeling confident.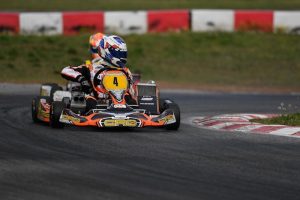 Kas Haverkort – "For sure, it was a great weekend for me! Being one of the fastest in the practice sessions then taking pole in qualifying was really good. I made some small mistakes in the first heat, but finished twice on P2 in the races Saturday, so it was still okay to be starting on grid 2 for Final 1. The conditions were hard with the track being half dry and half wet, so it was good to be able to keep my position for the last race. I had a technical problem in the first few laps of Final 2, but after I solved this I was going faster and faster, closing the gap to [Lorenzo] Travisanutto. Once I passed him, I managed to have a good gap to the finish – making it almost a perfect race."