This past weekend the Erftlandring in Kerpen hosted 164 drivers for the half time race of the German Kart Championship. Mach1 Motorsport started with Tim Tröger and Tim Schröder in the DMSB shifter kart cup. Both drivers convinced with a great performance, rewarded with a trophy in the final on Sunday.
Shifter kart rookie Tim Tröger experiences a year with ups and downs at his debut. At his first race in a shifter kart in Lonato he directly won but dropped out early at the next run in Wackerdorf and ended up with no points on his account. In Kerpen it was supposed to get better.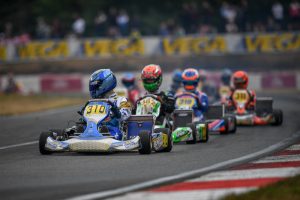 In qualifying the Saxon driver was driving cautiously being ranked 17th, but opened up in the heats. With alternating weather, he underlined his possibilities and improved onto twelfth position in the temporary rankings. In the two heats he drove each time the fastest lap time.
In the final on Sunday he continuously drove onto upper ranks. In front of full spectator stands and under best weather conditions he finished the pre-final being placed eight and drove onto the top five in the final. With that he took home the second trophy in the DSKC and earned important championship points. He is placed seventh in rankings.
His team colleague Tim Schröder did great in Kerpen as well and was placed eight after qualifying.  Unfortunately, he was subsequently fighting with rip problems and had to resign on a start in the final on Sunday – a bummer after the strong beginning.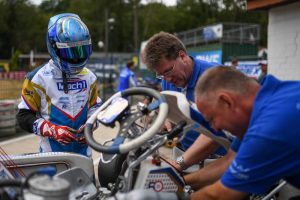 Head of the team Martin Hetschel was happy after the races in Kerpen: "We can be satisfied without exceptions. Tim Tröger drove the fastest lap repeatedly and presented himself great. On Sunday he completely got into his rhythm and was deservingly placed in the upper ranks. I wish Tim Schröder a speedy recovery, being placed eight he went off to a great start."
The team around the German kart manufacturer Mach1 Kart will continue in three weeks with the next races in the DKM in the Belgian Genk.