[trannslated with Google Translate]
MINI ROK. IANIELLO IS THE PROTAGONIST. PACINI WINS Sarno's race was simply beautiful. There were four riders who challenged each other with determination for the entire final. The protagonists are the same ones that are playing the championship, Ianiello, Pacini and De Pascale, with the addition of Quattrochi. After the pole, Ianiello imposed himself in the pre-final but was demoted for an appointment to De Pascale he inherited the number one box. In the final, Ianiello immediately took the lead and was and has been constantly pressing Pacini, Quattrocchi and De Pascale. These four arrived glued to each other in the final sprint with Ianiello crossing the finish line first in front of Pacini, while Quattrocchi, in a last-minute attempt to overtake, sent De Pascale out and paved the way to the podium in Pecoraro. The joy for the victory does not last long for Ianielli, in fact the good Rokker from Lazio is penalized in the post race (for infringement of the start) and the victory passes into the hands of Pacini. With the second success of the season Pacini remains the leader of the standings and Ianiello overtakes the unfortunate De Pascale. With these three formidable drivers wrapped up in a handful of points, the final round of the group promises to be more exciting than ever.
SENIOR ROK. ZUCCANO BACK TO TE TOP Zuccante redeems itself after the race in Siena and returns to the spotlight at the Naples International Circuit, winning and rejoining Mezzetti at the top of the standings. Now the two are separated by a breath with only one race to be played. Mezzetti is combative but lives an unlucky day on the slopes of Vesuvius and sees the margin on Zuccante return to zero. So in the grand finale of Siena in a single competition, Zuccante and Mezzetti (in the first competitive season) will play everything. On the circuit, Napoli made his debut in Marco Balzi karting, author of an excellent test and immediately on the podium.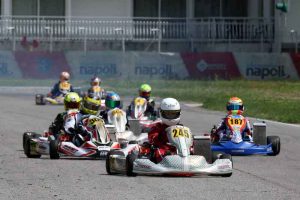 JUNIOR ROK. CHIURATO UNCATCHABLE Chiurato is perfect and does not miss a beat, despite combative opponents, led by the Italian ACI 2018 Champion, Ferrari, by Fantozzi and Zaffarano. The championship leader wins and prepares in the best way the Italian Championship round that will take place on the track in Campania on the first weekend of July. On the podium together with Chiurato, Ferrari and a combative Zaffarano climb, while Fantozzi is fourth and holds the championship more than ever. Between Chiurato and Fantozzi there are only eleven points of difference and only one race to play.