On the track in Sarno, the effectiveness of the OTK equipment was confirmed by Joseph Turney's third place in OK and the podium potential of the drivers competing in OKJ.
The second round of the OK-OKJ FIA Karting European Championship also came to an end, taking place this weekend under the beating sun of the Naples International Circuit. Despite the high temperatures, the Tony Kart Racer 401 R - Vortex duo confirmed its speed even on the long straights of the Campania track, as the excellent overall performance of the Tony Kart Racing Team drivers shows, constantly present in the upper part of the grid in both classes.
In particular, the OK class, saw our Joseph Turney reach the third step of the podium at the end of the final. The Englishman became the protagonist of textbook race management this weekend, which would also have allowed him to start from the front row in the decisive race, had it not been for a contact in the very first heat. A victory and a second place in the Heats, however, allowed him to reach third place in the classification of the qualifying heats, as well as precious points which, added to those of the podium, allowed Turney to make a substantial leap forward in the standings that sees him mathematically still in the running for the title.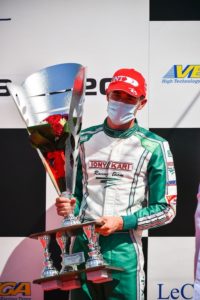 Excellent confirmation also came in OKJ, where, however, the speed achieved by our drivers was not always rewarded with an equally positive result. Our Tuukka Taponen still had another good weekend and finished a hard-fought final at the foot of the podium, remaining a contender for the head of the general standings. Karol Pasiewicz did well to recover 10 positions, crossing the finish line in fifth place. Bruno Del Pino, always in the top 10 in all phases of the race weekend (qualifiers, heats and final) came eighth. Harley Keeble, the protagonist of 2 heats victories and a best lap, was unfortunately relegated out of the top ten in the final due to a penalty. A penalty also ruined Alfio Spina's final, who in his first race in our team only achieved results in the top ten in the Heats in which he reached the finish line, to which he also added a fastest lap. Maxim Rehm came very close to accessing the final by recovering position after position in the heats and also achieving a best lap, but unfortunately he also accumulated two DNFs. Aiden Neate also had to finish the weekend early due to a penalty and a withdrawal, despite the excellent recoveries he achieved in the other qualifying heats in which he also recorded a best lap.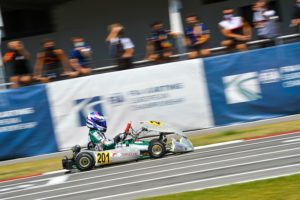 At the end of the European event dedicated to single-speed classes, the Tony Kart Racing Team is now preparing for the next race, the second and final round of the FIA Karting European Championship KZ-KZ2, scheduled to be held in Genk in two weeks' time.