Rising star Danny Kierle, 2017 CIK-FIA World Karting Champion, visited Dubai last weekend (17-18 January) and went home with the best souvenir he could hope for: the 2020 IAME X30 Senior O-Plate.
The British karting ace needed a bit of luck and plenty of guts to overcome an extremely talented field of competitors from around the world, including defending O-Plate champion Liam Crystal.
[caption id="attachment_265071" align="aligncenter" width="570"]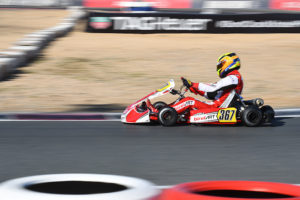 Danny Kierle (foto: Aaron Meriwether)[/caption]
Kierle, riding Birel Art Chassis, didn't waste any time getting familiar with the track and immediately set the bar high by topping the timing screens in qualifying with a best lap of 56.544, pipping the 2019 O-Plate champ by just nine hundredths of a second to take pole position. Kas Haverkort lined up in P3 and local karting hero Kyle Kumaran secured fourth position to the delight of the home crowd.
Crystal struck back in Heat 1, clawing out a narrow win by only 0.181 seconds over Kumaran, but Kierle returned serve by winning Heat 2.
Kas Haverkort claimed the third heat and it was now apparent that a titanic battle awaited the top four drivers in the IAME X30 Senior Pre-Final and Grand Final.
The Pre-Final was a disaster for Kierle who failed to finish the race, leaving Haverkort to claim the spoils and Crystal lurking nearby in the shadows in P2.
Completely undeterred, Kierle stormed back through the field in the final race and challenged the leaders, Haverkort, Crystal, Kumaran and another local superstar, Jamie Day. Kumaran took steering damage on the back straight in a skirmish and Crystal dropped back to fifth after another brawl, leaving three drivers to fight for O-Plate glory.
[caption id="attachment_265074" align="aligncenter" width="570"]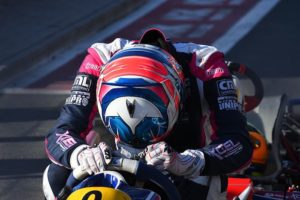 Il campione in carica Liam Crystal (foto: Aaron Meriwether)[/caption]
Kas Haverkort appeared to have victory in hand, crossing the finish line ahead of Kierle and Day, but a Front Bumper Infringement cost the Dutch racer five valuable seconds and handed the 2020 O-Plate to Danny Kierle.
A bit of luck gifted Kierle the championship trophy, but an epic drive in the Grand Final put the World Champion exactly where he needed to be to take advantage of circumstances and fly home with the 2020 IAME X30 Senior O-Plate in hand.