Meet rising Russian star Ekaterina Kazakova, aka Kat, of Dojomoto Racing Team, a tenacious lady driver who is climbing up the karting ranks in a sport traditionally dominated by men. Ironically, she will challenge the "Iron Man" category in the third and final round of the 2019 Mini Enduro Cup on Tuesday (3 September).
Tokyo Drift
Kat is no stranger to sport. Raised in Tokyo, Japan, the young Russian girl embraced the local martial arts culture and trained in Karate starting at the age of six years old and continued into adulthood when she reached the level of black belt in two styles, Ryobu-Kai Jinen-Ryu and Shito-ryu.
She competed in Karate on the world stage, earning podiums and titles in Serbia, Russia and the USA, including winning the overall Shito-ryu Championship in Russia for two years in a row (2004,2005).
Kat recalls, "I have never been into 'girly' sports. When I was five my parents put me into dancing classes. I barely managed to stay there for 40 minutes of the first class and then never came back."
Need for Speed
After working in the automotive industry for Porsche and Ferrari for a combined six years, Kat developed an interest in motorsport. In October of 2016 she came to Dubai Kartdrome to experience the thrill of racing.
"People who know me well, know that since childhood I can't stay in one place and do one thing for long. I get bored very quickly, I always need a challenge. Emotions and racing after karate has become a crazy challenge for me."
Sodi World Series (SWS) Sprint Racing provided the rush she was looking for, and soon Kat became a regular driver appearing on the grid on Monday nights.
Kat remarked, "I decided to go for it and SWS Sprint Races were the easiest way to get into not only driving the sessions but actually racing."
In the hefty SWS fields of thirty karts or more, she started her race journey toiling to break out of the backmarkers and then out of the scrappy mid-field a year later. Now she regularly cracks the top ten and is chasing down veteran racers with much more experience.
In addition to SWS, Kat expanded into 2-stroke karting by joining forces with Dojomoto Racing Team to compete in IAME X30 races locally and overseas.
"I never thought that karting would become such a big part of my life for the past few years; it just happened very naturally. I've met amazing people and the team who have been supporting me throughout these seasons and became my second family, which means a lot."
"Every day in karting brings something new: new experiences, new emotions, new challenges, new people, new results."
Kat has been collecting silverware all along the way, including a third place (heat one) trophy at the 2018 SWS World Finals in Italy, a pair of third place title trophies for the IAME X30 Championship (2017-2018, 2018-2019 and a vice-champion Masters trophy for the 2018 Dubai O Plate.
[caption id="attachment_222708" align="aligncenter" width="570"]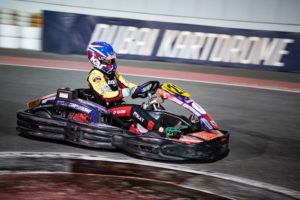 Kat in SWS Sprint Race at Dubai Kartdrome[/caption]
Top Gear
What's next for Kat? First up is tackling the Iron Man category at the final round of the 2019 Mini Enduro Cup, and she still races SWS and IAME. With Dojomoto Racing Team and Dubai Kartdrome she'll have many opportunities to compete and master the art of racing.
When asked about future racing aspirations, Kat simply stated, "I still have a few challenges to achieve in karting, but I'll keep them to myself for now. So, future plans? Just shut up and drive, I guess."
About Dubai Kartdrome Outdoor Circuit
The 1.2km International Circuit at the Dubai Kartdrome features 17 corners to test a driver's skills, as well as a tunnel and bridge to add to the excitement. This challenging configuration affords maximum safety to all drivers and spectators and is equipped with a complete set of flood lights to offer perfect viewing for night time racing.
Since 2004 the venue has hosted many local and international karting races, as well as offering corporate events and Arrive & Drive karting for guests.