From Sicily, the Italian ACI Karting Championship moved to the Naples International Circuit of Sarno for the second meeting.
After the good debut of Triscina, last weekend Mattia Bucci confirmed the excellent feeling with the 125cc kart and all the material of the Newman Motorsport team as well as an excellent level of athletic, mental and driving preparation, scoring times very close to the best, clinching again the top-10 and the points zone in the X30 Junior category.
The young promise from Catignano, followed by Minardi Management, was the protagonist of a strong weekend with numerous overtaking and comebacks, after a difficult qualifying dictated by some incorrect behavior of several drivers, subsequently sanctioned, ending with the seventeenth absolute time , out of thirty-four registered, and the best time of 1.01.807 to 5 dec. from pole.
In the next two heats, in preparation for the final stage of the race on Sunday 30 August, Bucci becomes the protagonist of numerous overtakes, even if a 5 "penalty for the detachment of the kart's front spoiler occurred during a brawl partially frustrates the work. Starting from the ninth row in seventeenth position on the grid, in the thirteen laps of Final-1 he managed to recover up to the tenth place, after having slipped on the first lap to twenty-sixth place.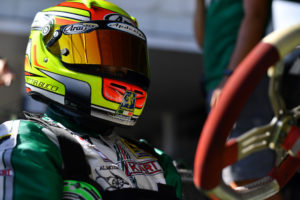 "It was a positive weekend, even if affected by some incorrect behavior on the part of someone, as happened in Final-2 where I had the potential to improve the result of the first race. However, I am happy to have again conquered the top-10 and points, my main goal, but above all to be able to improve my feeling with the material after each session. I want to thank all the sponsors who give me the opportunity to race and the team manager Andrea Pedrini " says Mattia Bucci.
From 11 to 13 September the ACI Italian Championship and Mattia Bucci will move to Siena for the third round