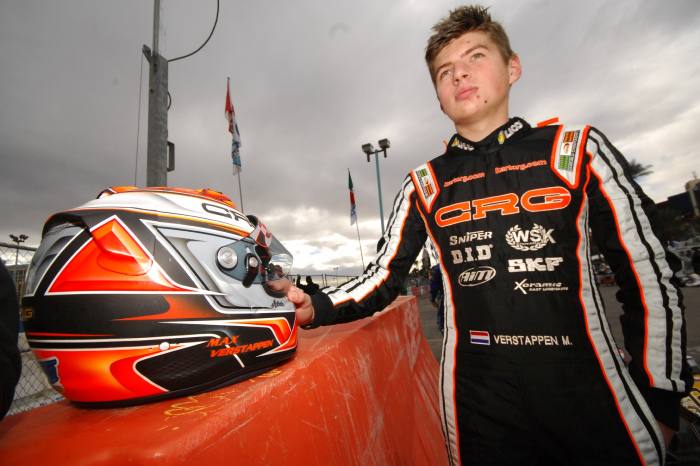 Max Verstappen won the F1 World Championship title at the age of 24 years only, after one of the most exciting seasons of all time. His duel against Lewis Hamilton was exciting indeed, sometimes hard too, but always on very high levels of performance. High enough to completely cut off their teammates and take the F1 fans following to the highest levels of the last 15 years. After 22 Grands Prix, the challenge ended in Abu Dhabi, after a race with many twists and turns, some of them controversial, but which in the end crowned Max Verstappen 2021 World Champion.
This challenge was a huge showcase for the whole racing world and also for karting, which represents the basis of professional motorsport. In this epic world duel the CRG brand is proud to have had both drivers in its team at the time of karting. There is therefore a special bond with the two of them, but perhaps the relationship with Max is even stronger because it is more recent, his course in karting was among the most successful ever and also for the fact that CRG accompanied him from the very first steps up to World Champion's title in go-karting.
Actually the link between the CRG brand and the Verstappen family started before Max himself, considering that both his father Jos and his mother Sophie Kumpen raced go-karts wearing the CRG colors. When Max, who was born in 1997, was 4 years old and he started getting on the track with his father, his first kart was a CRG "Puffo", which can still be admired on display in the showroom of Max's official store in Swalen in the Netherlands. At the age of six, always followed by his father Jos, as an exceptional mechanic and coach, the Dutchman started racing in the Rotax series with the support of CRG Holland and the Pex family. The first successes and the National titles immediately arrived, until in 2009, without being old enough, he showed up to a collective test session of International karting in the KF3 category, where Giancarlo Tinini saw him in action for the first time live:
"I remember we were in Muro Leccese in the 2009 pre-season collective tests and even though I had followed Max's activity in the Rotax, where he raced with his father as a mechanic, it was the first time I saw him in action and it was surprising. At the time, the reference driver in the Junior KF3 category was Nyck De Vries, who was racing with our Zanardi team, and Max was immediately able to match his lap times on a track which was unknown to him and with very little experience in that International category. Obviously, I immediately spoke with Jos and I wanted him to join our team for the following year, when the first International successes in the WSK and FIA races immediately arrived for him. He spent three years with us and he won a lot, proving to be a crystal-clear talent in driving and with a high mental strength. His father has always been at his side in karting with an active role and contributed significantly to Max's training. He was able to enhance his talent by imparting a rigorous discipline to him, capable of making his potential great abilities from all points of view, very important for a driver: track technique, mental strength, determination. Max had exceptional control of the vehicle in karting, even in the first laps of the race when tires were not warm enough, and this feeling and naturalness in driving allows him to make the difference in motorsport even nowadays. Many confuse his determination and aggression with "unfairness", but I have never agreed on this thought, so much that in karting he has almost never been involved in race contacts. Obviously, I do also have great esteem for Hamilton, who won a World and a European Championship with us, and I think they both deserved this Championship".
Max Verstappen holds many records, from being the youngest driver to ever race in F1 (his debut at the age of 17 only), to being the youngest winner of a Grand Prix; and for the karting world he is certainly a very important ambassador, having become, together with Fernando Alonso, the only winner of the FIA Karting World Championship (won in 2013) who has also won the F1 title. We wish you this one will be the first of many, Max.
Press Release © Kart CRG