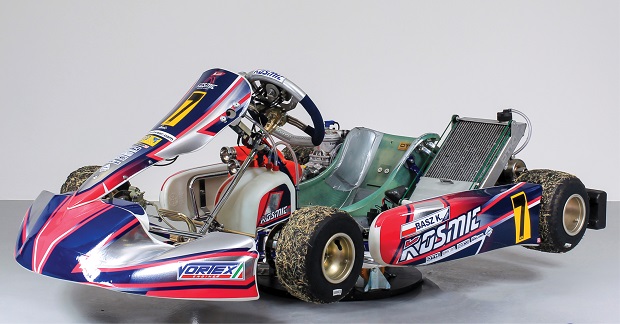 After coming close to it more than once, Kosmic finally won the KF World Champion 2015 title in Muro Leccese with Karol Basz and with a kart that fully expressed the signature quality standards embodied in every single OTK product.
Kosmic Kart has came close to conquering a world victory more than once in the past few years, always claiming the limelightas a top performer. Yet, it was only on that magical weekend in Muro Leccese a few weeks ago that all the necessary ingredients (driver, engine, tires) finally mixed with that pinch of luck that makes victory possible, allowing Karol Basz to play the all-star role and win the 2015 KF World Champion title.
Success came aboard a Kosmic Mercury, obviously set up in KF configuration. The chassis model is officially homologated for all international classes (KF4, KF3, KF2, KZ2, KZ1 and ICE), but, of course,
New or used, the Kosmic Mercury guarantees unique top quality features that are fruit of an extremely advanced manufacturing process and that characterize all OTK group vehicles. A key aspect of OTK production, in fact, is the use of sophisticated high-precision automated welding machinery, which yields junctions with excellent mechanical properties and an incredibly steady performance record.
In terms of "accessories", instead, the most important element is the double piston brake system, which OTK has refined in response to karts' increasing weight and the growing demand for greater deceleration. Basz's KF kart, however, did not include the true Kosmic/OTK innovation that distinguishes the KZ model:… .(keep reading on "UNDER REVIEW" TKART Magazine channel)