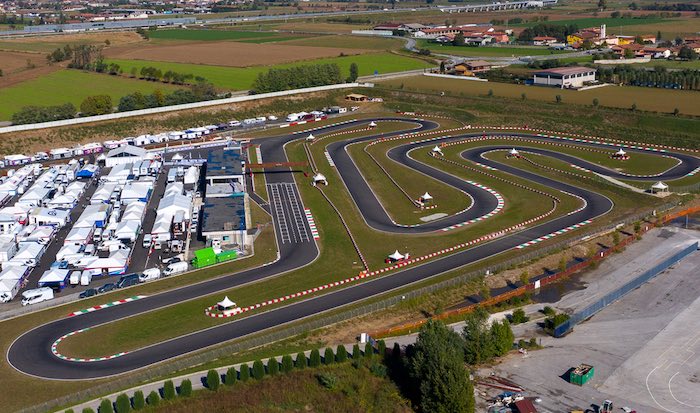 On the Franciacorta Kart Track the action rages in view of the 2020 Rok Cup Superfinal.
The paddock is full and the organization of the Rok staff is working hard to carry out the event in the best way, as per Rok tradition.
The 2020 Superfinal has arrived onto the Franciacorta Kart Track by surprise, but this is giving Rokkers all over the world new spurs for an amazing challenge.
The circuit, new for all participants, is 1.300 m long, with a total of 16 bends (9 right and 7 left) and several ups and downs, making it special.
The usual checks have started today, together with the delivery of material to start the 18thedition of the Superfinal in the best way. Sporting checks have been completed, unilogs have been delivered and the keepsake material has been distributed (plates with names, T-shirts and sweatshirts with logos of the current edition).
On the track, drivers are refining the preparation to do their best since the qualifying which are scheduled for tomorrow (Thursday, October 15th).
ROK CUP APP. As always, the proper application dedicated to the Superfinal is available, both for Android and Mac.
The Rok Cup app is rich in interesting contents, it allows to follow the event in every moment and provides live notices on what is happening on the track.