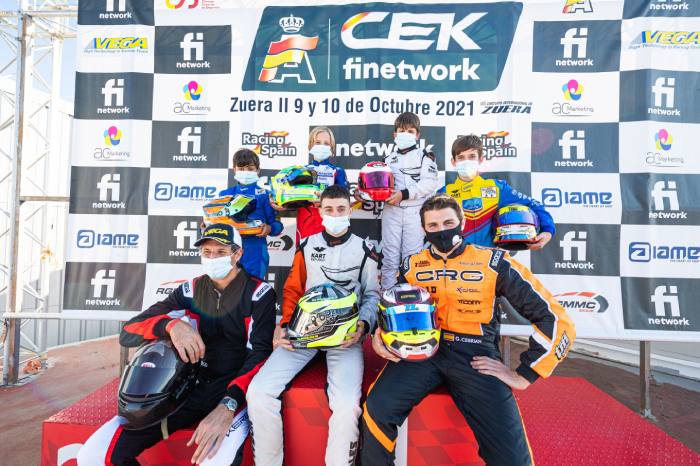 [translated with Google]
The Finetwork Spanish Karting Championship has closed the curtain on its 2021 season at the Circuito Internacional de Zuera (Zaragoza) this weekend. The even competition, coupled with an enrollment of 143 drivers, has resulted in a memorable racing weekend.
In the KZ category, Gerard Cebrián secured the title of champion, adding his third championship. The Catalan rider won the first race and was sixth in the second, securing the title ahead of Carles Martínez and Arnau Cervera.
Jaime Alguersuari, who was returning to CEK Finetwork after an injury, managed to win in the second race on Sunday. In the KZ2 trophy, the triumph of Manuel Martínez in one of the two races assured him the championship of the subcategory.
Daniel Nogales and Urbeltz Moar had a great duel in the Senior category. Both led in timed practice and qualifying heats on Saturday, leaving everything to be decided for Sunday.
A Sunday day in which Dani Nogales won the first race and thus ensured his victory in the championship. A title that will allow him to debut in the Spanish F4 Championship. In the second race, the victory went to Urbeltz Moar, who climbed to the top of the podium.
In Junior, Lucas Fluxá did his homework and was proclaimed champion of the category. The victories went to Iván Arias and Adrián Malheiro, who beat Juan Cota by just 7 milliseconds.
In Mini, Raúl Zunzarren arrived with a clear advantage for the final appointment of Zuera. The Navarrese pilot, with a podium in the first race, sentenced the championship against Alejandro Martínez, winner of the second race, and Sandro Pérez. Bosco Arias also debuted as a winner at CEK Finetwork. In the Rookie class, double victory for Abel Torres, with Javier Broasca proclaiming himself champion.
Finally, in the Academy CEK Finetwork, Roc Piñera and Dario Sánchez fought for the championship, with Sánchez taking victory in both races. Despite this, Piñera's podium positions allowed him to win the title.
In this way, the 2021 season in the CEK Finetwork ended, and, despite the conjuncture of a pandemic, it has been able to develop at a high level, with a large number of participants, which presages a very interesting season of the 2022 year.
Press Release © CEK Finetwork