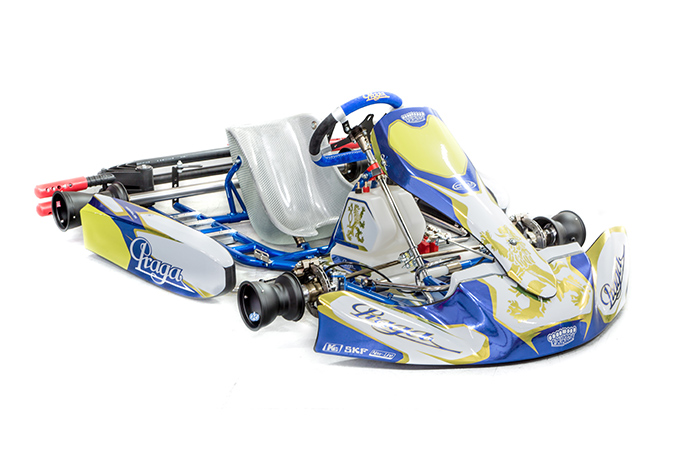 The first changes of all the main companies on new CIK-FIA 2018 approvals are beginning to be talked about. IPK is obviously involved, based on their product range in relation to three different brands: Praga, Formula K and OK1.
In relation to chassis, the most important item is the new Praga Tacho Evo chassis, alongside the changes made to the Dragon Evo2 XS1 chassis.
In relation to the less significant changes, the most important new item is the Monster Evo chassis for Minikarts, both in the blue Praga version and the orange OK1 version. Formula K has already included the Mini version of the Monster chassis, the winner with Paparo of the WSK Super Master Series, in its catalogue.
Among the accessories, the RBS.V2 brake system stands out; it is suitable for the KZ (with front brakes), OK and OKJ. The new model will be mounted on both Praga and Formula K karts.
The new karts of all three IPK brands will mount the new KG 506 model fairing, developed using CFD (Computational Fluid Dynamics) software to improve its aerodynamics.
Obviously, the graphics kits have also been renewed, and they have been restyled for both Praga and Formula K and OK1. The Kit also includes a sticker for the rear bumper.
Other new entries in the accessories department:
– 4-spoke "M5" steering wheel suitable for Mychron 5 housing
– Steering column "R" model with 4 position holes (L.490 mm and L.420 mm)
– Slanting steering hubs (standard equipment)
– Reinforced spindle screw (zinc-nickel galvanised, black)
– Nylon chain stretcher cap
– Hexagonal gear tie rod (L.490 mm), adaptable to lengths 485/480/475mm
Optional:
– MR axle (between M and MS in the product range)
– Ø 195 mm rear brake disc, homologation CIK-FIA 2018-2020