Another series by WSK has come to an end and our new OKJ driver, Christian Ho, has taken the chance to launch himself into the competition with the Sauber Karting Team, learning our methodology and understanding the material, in preparation for next year.
His positive results are well welcomed by our team managers, who are supporting the driver from Singapore with the best that Kart Republic has to offer.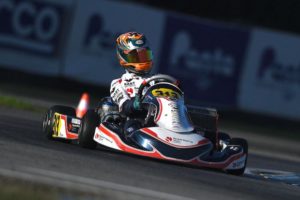 Christian Ho:
"Not really the week end I expected; we were fast in the rain but I think a made some mistakes myself, although the kart was really good. I will try to do my best on the next one, also next year I'm willing to improve my performances; I'm feeling great with Richard, he's a really good manager and helps me with both driving and chassis set-up."
Sauber Karting Team Manager, Richard:
"No fue fácil, comenzando desde la calificación con mal tiempo. Las eliminatorias han sido buenas, siempre en el top 5, aparte de la última cuando tuvo que retirarse. Fue rápido en la final, una carrera bastante difícil con espacios muy cerrados entre todos los mejores pilotos.
Lo está haciendo bien y lo veo crecer constantemente, así que estamos seguros de la próxima carrera en Adria, ¡y definitivamente de la próxima temporada! "