Tough weekend for our drivers in Sarno, for the first round of the WSK Euro Series.
Pylka finished P19 in the OK final; the young Polish keeps growing on his first international races, coming from the X30 Series.
Thompson was fast and consistent as usual but unfortunately retired from the pre-final while he was in P6, preventing his chances to access the final.
Costa was P20 in 60 Mini, followed by Czaja in P23; both drivers have been affected by tough qualifying sessions.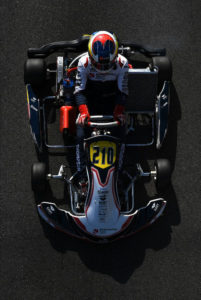 Sauber Karting Team Manager, Richard: "Thompson was really unlucky; he crashed with another driver during the pre-final and got damage, so he was forced to stop and didn't make it to the final.
Pylka made his debut in OK and we believe he's going to grow during the season; he comes from X30 Championships so he needs some time to get used to this new class, but his performance looks promising!
Costa didn't have a proper qualifying run, so he had start from the back and recover every time; this explains the poor performance.
Also Czaja, like Pylka, just started racing international events here in Italy, so he needs to grow and we're working to make him more comfortable."