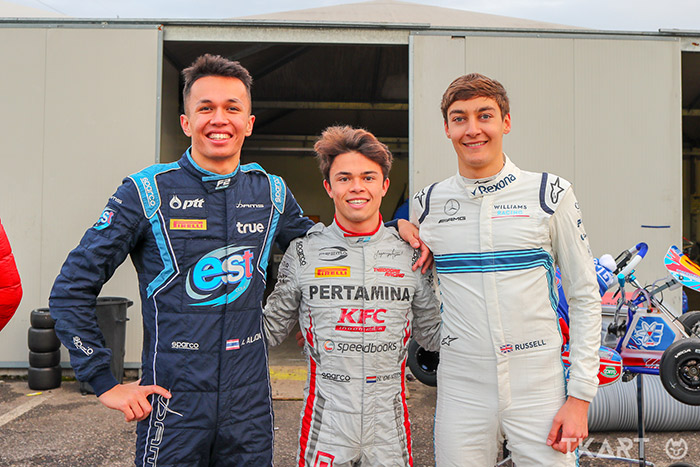 [translated with Google Translate]
Alexander Albon, Nyck De Vries and George Russell. Three guys, three young drivers, three talents who started their karting career between 2006 and 2008. Albon with the colors of Intrepid driver program, De Vries under the tent of Dino Chiesa and Russell with the red of BirelART.
Today, a few years after their passage from karts to single-seaters, De Vries is about to start his third season in Formula 2 with the colors of ART Gran Prix, while Albon and Russell will face their first season as drivers in Formula 1, respectively with Toro Rosso and Williams.
But since the seasons are still to begin and that, after all, the love for the kart has never failed, here on a cold January day the three are still on track together, still in kart, at the South Garda Karting of Lonato. Albon drives an Energy Corse branded chassis, De Vries a KR kart by Dino Chiesa and Russell is back at the wheel of a BirelART, all three in the KZ version and all three assisted by their respective official houses.
In the early morning, everyone followed their own training program, because for them karting, in addition to being still a great passion, is above all a means of preparation and training for future engagements in a single-seater: it is well established and known, in fact, how much karting is an excellent means of training for all pilots, because it trains the body, the mind and the ability to "read" the reactions of the vehicle to refine the setup.
Throughout the day the three do not skip a turn, accumulating laps and working with the aim of finding consistency in performance and trying to maximize them. The cold weather did not help in this sense. For a couple of turns, Antonio Fuoco (with a Velox chassis), FDA pilot and Dragon team test driver in Formula E took to the track.
Then, at the end of the day, when the scheduled work has already been done and, above all, when the track, always populated by pilots even outside the race weekends, begins to empty, the 4 allow themselves a few laps of pure fun: brawl tightened, overtaking, detached at the limit … as "the old days", further evidence of how the kart is the most complete motor vehicle that can be there, able to meet the needs of an intense training at 360 degrees, as well as to give moments of pure fun.