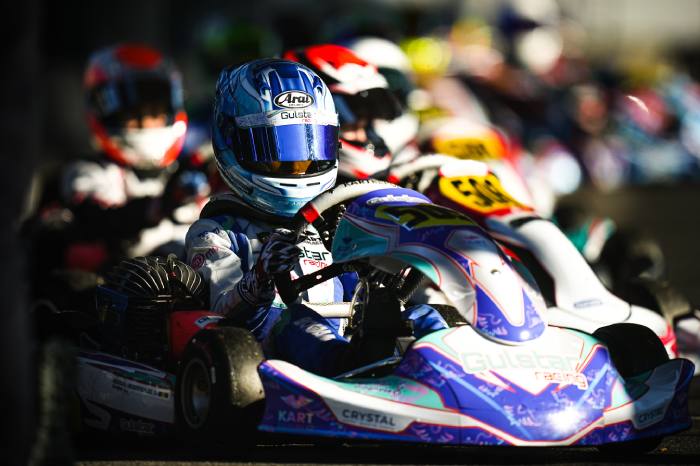 Bogdan Cosma-Cristofor has started his third international karting season in the 60 Mini class with great talent and determination, even though he has not yet turned 11 years old. At the second round of the WSK Super Master Series, the young Romanian has just posted one of his best results of his career on the prestigious circuit of Lonato, by taking a remarkable 6th place out of a total of 108 drivers! Bogdan's 2022 season has well and truly started…
After very encouraging winter tests with the driver, the Gulstar Racing team erected its awning on the South Garda Karting circuit in Lonato, which planned three consecutive events on this circuit in partnership with the prestigious WSK Promotion, whose competitions are attended by all the future hopes of motorsport. The current F1 champions Max Verstappen, Charles Leclerc, Lando Norris and Carlos Sainz took part in the race less than 10 years ago!
Particularly competitive in Lonato
With 26th in the WSK Champions Cup on 23rd January and 14th in the first of the four events of the WSK Super Master Series on 30th January, Bogdan Cosma-Cristofor continued his outstanding progress which is leading him towards the top of the table. Bogdan is a fast learner and his rivals were able to confirm this during the next part of the WSK Super Master Series in Lonato. From Qualifying to the Final, he had a dazzling performance. After setting the fastest time of his group in the timed practices (3rd in the overall result), he was able to start from the front row in all his heats, including three times from pole position. From then on, the young Romanian never left the leading group.
Close to the podium!
With a victory, two 3rd places and two fastest laps, but unfortunately a lesser heat due to a difficult start, Bogdan took 8th position in the aggregation of the Qualifying Heats. He started Sunday's race with the fastest time in the warm-up session on his KR-IAME. Bogdan Cosma-Cristofor came back to 7th place after the Prefinal, but was still very strong and managed to finish in 6th place after a very incisive race from the Gulstar Racing driver.
"The Final was very competitive," Bogdan admitted. "The leading group stayed together until the end. I was very focused, I kept trying to gain places, while keeping an eye on the many rivals behind me. Finishing less than a second behind the winner shows that I am not far from fighting for the podium or even the victory. It's motivating." For all those who support him, this 6th place out of 108 classified drivers confirms the potential of this young driver to follow closely in 2022…
Press Release © Bogdan Cosma-Cristofor