As always, the main appointments of the karting season concentrate during the last months of the year. The same is for the ROK Cup, which, after many local races, distributed on the whole national territory, is gathering the Rokkers all over the world to live and share moments, always rich in adrenaline and fun.
The highlight of the season is the Superfinal of the South Garda Karting in Lonato, celebrating its seventeenth edition in 2019. Once again the results were extraordinary, with 419 drivers present, coming from 49 different countries, representing all 5continents. In particular, lots of young drivers in the Mini ROK and Junior ROK classes with over 100 participants, proving the preparatory value of the ROK races. In total, the categories electing their 2019 champions have been: Mini, Junior, Senior, Expert, Expert plus, Super and Shifter. Besides them, the 4 Special Trophy have been assigned by the main ROK Cup partners: Shinga, OMP, Bridgestone and Vortex.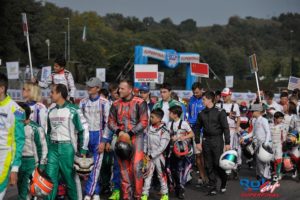 The Superfinal, however, was not the only important moment in this intense season finale. After the race meeting in Lonato, actually, in the United States from 28th October to 2nd November the ROK the Rio race took place in the fascinating setting of the Rio All-Suites Hotel & Casino. The appointment is growing year after year, becoming an unmissable point of reference for all the Rokkers of the American continent, and more. This year, 253 drivers took part in it, subdivided into seven categories: Micro, Mini, Junior, Senior, Master, Shifter and Shifter Master. Proving the spread that the ROK the Rio reached, the winners did not come only from USA, but also from Brazil and Costa Rica.
20 days after, this success recurs…over 14.000 km distance. This is actually more or less the distance between Nevada city and Singapore, seat of the Asia Final. Completely different context, different habits, but same enthusiasm and, especially, the ROK Cup flag waving on the KF1 Karting Circuit. Here the classes racing were 5 (Mini, Junior GP, Senior GP, Expert 30/40, Expert 50/KF1 GP ROK), but the show and the will to win were the same, as well as its international character, which brought on the first step of the podium local drivers from Singapore, but also others coming from Philippines, Indonesia and Australia. Umpteenth proof that the ROK Cup knows no bounds.